As we've learned from recent news, sudden cardiac arrest can happen at any time. Our community partner, the Peyton Walker Foundation, is raising awareness about it and the importance of knowing CPR and having AED machines close by to save lives.
Recently, High coworkers Brooke Strubel and Bill Odoms (a Board Member of the Peyton Walker Foundation) from High Environmental Health and Safety Consulting joined the Peyton Walker Foundation's founder, Julie Walker, on Fox 43 to demonstrate how to perform CPR and use an AED on someone experiencing sudden cardiac arrest.
Please
watch
and learn how you can help aid victims of sudden cardiac arrest, and visit
peytonwalker.org
to learn how to become CPR/AED certified.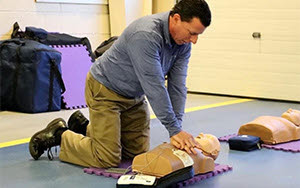 Bill Odoms demonstrates CPR