We are proud to announce that S. Dale High was selected to receive the Manufacturing Trailblazer Award by the Manufacturers' Association.
⁠
This award celebrates Dale's extensive contributions to the regional economy, job creation, entrepreneurialism, commitment to his community, and his trailblazing spirit in the manufacturing industry.
⁠
The Manufacturing Trailblazer Award was created in 2019 to recognize the historic role of stellar contributions made in the manufacturing industry throughout South Central Pennsylvania. This manufacturing "hall of fame" recognition reminds us of those who helped to build the region's economy through our most important industry—manufacturing.⁠
⁠
Join us in congratulating Dale on this achievement!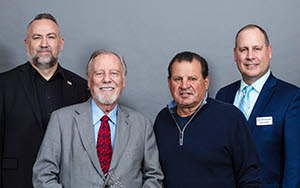 Pictured (left to right): Mike Granby, Board President, Manufacturers' Association, S. Dale High, Mike Eruzione, and Tom Palisin, Executive Director, Manufacturers' Association