It is with great excitement that we announce that S. Dale High has received the Pennsylvania Society's Distinguished Citizen of the Commonwealth Award. The first Lancastrian to receive the award since it was established in 1976, Dale was honored for his contributions to the economic progress of Pennsylvania.
In a press release announcing the 2023 award recipient, The Pennsylvania Society commended Dale's use of values-based leadership to develop High Companies, growing the companies in new strategic directions.
"Just last year, it was announced that Dale transferred his ownership stake in High Industries Inc. to the High Foundation, emboldening the Foundation through an extraordinary act of business leadership and philanthropic vision that will benefit communities for generations to come," said Elizabeth Preate Havey, president of The Pennsylvania Society. "Pennsylvania has been fortunate to call him a citizen, and we look forward to presenting Dale with this unique honor."
Upon receiving the award, Dale spoke about his gratitude to the Society and encouraged his fellow business owners to find a way to mobilize their success for the betterment of the community and the Commonwealth.
"All businesses, large and small, have the opportunity to impact their communities," Dale said. "I learned from a very young age that with success comes responsibility."
Joining in the celebration was leadership from High companies and High Foundation who are honored to carry on Dale's example of servant leadership.
"Dale High has dedicated his career to investing in others," said Robin Stauffer, Executive Director of High Foundation. "This is apparent across High companies and throughout the communities Dale has been supporting for the past 50 years. At High Foundation, we are proud to continue his good work by investing in organizations and projects that will have lasting impact for generations to come."
The Pennsylvania Society is a nonprofit organization that honors achievement, rewards excellence, and promotes good will across the Commonwealth of Pennsylvania. Unlike other annual awards presented by the Society, the Distinguished Citizen Award is only presented when the society determines that a person embodies outstanding service and contribution.
"We certainly have found that person in S. Dale High, Chair Emeritus of High Industries and High Real Estate Group," said Preate Havey. Previous recipients of the Society's Distinguished Citizen of the Commonwealth Award include Rachel Carson (1999), Louise Appell (2005), Patrick Solano (2016), and C. Alan Walker (2022).
The award was presented on April 27, 2023, at The Pennsylvania Society's 125th Annual Meeting at the Lancaster County Convention Center.
Learn more at pasociety.com.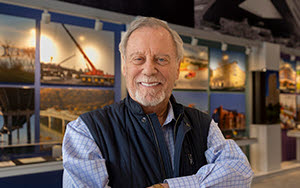 Distinguished Citizen award recipient S. Dale High at the High Foundation headquarters