Since 2012, High Foundation has been proud to support the Lancaster County Community Foundation's signature event, the Extraordinary Give. Over the last 11 years, community members have raised $92 million for the causes they care about.
The funds generated from ExtraGive have impacted community benefit organizations across all sectors, from health and education to hunger and poverty alleviation.
As a Presenting Sponsor, High Foundation partners with the Lancaster County Community Foundation to promote ExtraGive so that everyone can get involved and feel confident in their ability to make a difference.
We are proud to partner with the team at LCCF to celebrate this annual day of giving when every member of our community can invest in what matters to them.
"When given the opportunity to elevate the event to new heights by joining as a second Presenting Sponsor, High Foundation did not hesitate. Since that time, the ExtraGive has soared to more than $10 million a year for five straight years."
- Sam Bressi, President and CEO, Lancaster County Community Foundation
On November 17, 2023, thanks to more than 23,000 donors, the Lancaster community raised over $8 million to support 453 organizations. Thank you to all those who continue to make Lancaster County extraordinary!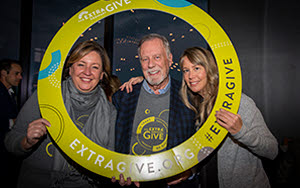 Robin Stauffer, S. Dale High, and Suzanne High celebrating another record-breaking day of giving