High Foundation recently announced the election of two new members to its Board of Trustees.
Thomas T. Baldrige – Mr. Baldrige is President and CEO of the Lancaster Chamber, an organization with over 1,400 members. He has held this position since 2000. Mr. Baldrige is a graduate of Ithaca College and received the designation of Certified Chamber Executive in 2008 from the American Chamber of Commerce Executives. In 2003 and 2013, The Lancaster Chamber was judged Chamber of the Year by an organization of its peers. Mr. Baldrige serves on the Boards of Lancaster General Health, the Economic Development Company of Lancaster County, the Workforce Development Board, the Lancaster County Transportation Authority, the City Reinvestment and Improvement Zone (CRIZ) Authority, LancasterHistory, and Thaddeus Stevens College of Technology.
Hilda Shirk, PhD, MSW – Dr. Shirk retired from a career of service and leadership within nonprofit organizations, most recently as President and CEO of Union Community Care (formerly known as Lancaster Health Center), a Federally Qualified Health Center providing medical care, dental care, behavioral health, and social support to over 34,000 patients throughout Lancaster and Lebanon Counties. At the onset of the pandemic, she worked with the Lancaster Chamber and Economic Development Company of Lancaster County as a consultant to Recovery Lancaster, leading a team of professionals providing expertise and resources to mitigate the public health impact of covid-19 on businesses. Dr. Shirk serves on the Boards of Landis Communities and WellSpan Health System where she serves as Vice-Chair. She received her BA in Spanish from Goshen College, a Master's in Social Work degree from the University of Pennsylvania, and Ph.D. in Business Administration from Northcentral University.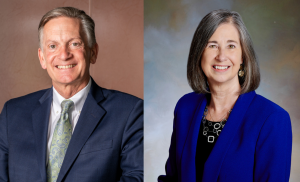 Thomas T. Baldrige and Hilda Shirk, Ph.D., MSW