We are honored to celebrate with The Lancaster Science Factory as they unveiled their new exhibit—the High Foundation Sky Bridge—earlier this week.
To mark the conclusion of their multi-year Elevate Curiosity capital campaign that doubled the size of their exhibit hall, The Science Factory was looking for what they called an "icon exhibit," wanting to make good use of its 28 feet of vertical air space.
"We wanted a large, high impact showpiece that would be utterly unforgettable," said Emily Landis, Executive Director of The Lancaster Science Factory. "Making the connection to STEM, we commissioned a design that was inspired by the engineering principles of bridges. We wanted to teach people about structural engineering and inspire them to ask questions like, 'What could I build?'"
Ronnie Medlock, VP of Technical Services at High Steel, serves on the Board of Directors of The Lancaster Science Factory and was excited to help as an integral part of the planning process. And as an ongoing partner with The Science Factory, High Foundation was proud to be the lead sponsor for this incredible project.
"At High, we have a commitment to continued curiosity and we could not be more excited to be here to unveil this epic interpretation of a bridge that will bring people to Lancaster from all over and hopefully inspire young minds to see the world from new and exciting angles," said Robin Stauffer of High Foundation.
"The Sky Bridge is a true feat of engineering. It's awe-inspiring," Landis said. "Giant steel beams are suspended from the ceiling and don't touch the ground. The steel beams support 35 climbable panels that can each hold over 900 pounds and are surrounded by mesh so you can't fall out."
Each panel has a holographic finish on the bottom that reflects light and creates rainbow colors. The panel tops feature aerial photographs from around the world and Lancaster County.
"Climbing the Sky Bridge is an epic experience," Landis added. "We hope it will become a rite of passage that turns people onto STEM play and exploration. It's quite literally a bridge to learning more!"
Education is an Impact Pillar for High Foundation and we look forward to a continued partnership with Lancaster Science Factory as they help students explore their STEM interests and inspire them to confidently explore the world.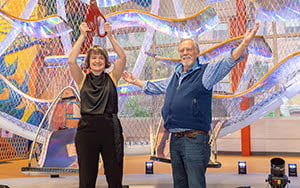 Executive Director of the Lancaster Science Factory Emily Landis and S. Dale High at the opening of the High Foundation Sky Bridge