Essence of Humanity Award Winners Announced
We were honored to attend the 35th Annual Rev. Dr. Martin Luther King, Jr. Breakfast at Millersville University. Thank you to @cap_lanc and the team at Crispus Attucks Community Center for gathering the Lancaster community in celebration of Dr. Martin Luther King, Jr.'s extraordinary legacy and inspiring Lancaster to strive toward values of equity, inclusion, and service.
At this special event, High Foundation recognized two individuals whose selfless leadership is making a difference in our community. Darryl Gordon and Robin Stauffer joined present them on stage to present their 2022 Essence of Humanity awards.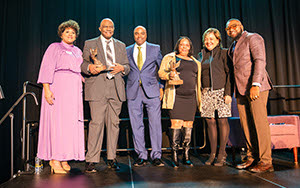 Left to right: Vanessa Philbert, CEO CAP; Reverend Butcher, Jr.; Darryl Gordon, Vice President, High Companies; Lisa Parker; Robin Stauffer, Executive Director, High Foundation; Joshua Hunter, CACC Director