High Foundation is pleased to announce the 2023 High Scholarship Award recipients, Christian Mahonski of Springboro, OH, and Casey Tippett of Lancaster, PA. The students have been awarded $20,000 scholarships, which provide $5,000 per year for four years.

High Foundation values education and has been investing in the children of High coworkers for the past 40 years, encouraging secondary education in the form of college or trade school. A June 14 luncheon was hosted to bring together parents, students, and the High Foundation Board to honor the students and congratulate them on their accomplishments.

Robin Stauffer, Executive Director of High Foundation, led the event with opening remarks. She celebrated Christian and Casey for their many accomplishments and noted that both students have chosen to embody the High value of servant leadership through their volunteer work and community involvement.

The 2023 Scholarship Program Recipients:

Christian Mahonski is the son of Matt Mahonski, Midwest General Manager with StructureCare, who joined High companies in 2011. Christian attended Springboro High School where he participated in Varsity Soccer all four years, including serving as a certified soccer referee. He was a member of the National Honor Society as a Junior and Senior, and is a member of the Golf and Ski Clubs. Christian's community service includes working as a warehouse worker at Bogg Ministries, serving as a team leader of an engineering project for a disabled student, and participating as a student member of Positive Behavioral Interventions and Support. Christian plans to pursue a degree in Aerospace Engineering from Ohio State University.

Casey Tippett is the son of Beth Tippett, Manager of HR Solutions with High Company LLC, who joined High companies in 2005. Casey attended Donegal High School where he served as Team Captain of the Football team all four years, was a member of the National Honor Society as a Junior and Senior, and participated in Future Business Leaders of America as a Senior. Casey's community service includes Community Breakfast and Little Kid Football Training as a Senior, and park clean-up in grades 10 and 11. Casey plans to pursue a degree in Mechanical Engineering from Penn State University Harrisburg.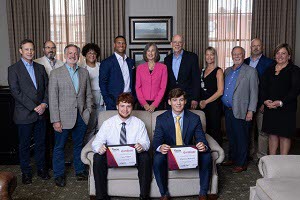 Casey Tippett (L) and Christian Mahonski (R) with High Foundation Board Members