High Foundation contributes $100K to build community service hub
The S. Dale High Family Foundation has contributed $100,000 toward construction of Declaration House, the first social services center in Denver, Pa. Located at 240 Main St., the new facility will be the headquarters of REAL Life Community Services, a provider of faith-based youth mentoring, intervention, and other social services. Welsh Mountain Health Center will also maintain offices on site to offer medical, dental, and behavioral health counseling services. In addition, Lancaster Housing Opportunity Partnership will fund 10 affordable apartments for low-income families.
REAL Life Community Services Executive Director Rod Redcay expects that the community service hub will help boost economic development in Denver, transforming a blighted property into a hub of renewal and activity that improves the quality of life in the Cocalico region. The organization also operates a transitional home for mothers leaving a local women's shelter, and a youth center in the community. Construction of Declaration House is expected to begin this summer for a 2019 opening. For more, please visit www.reallcs.org.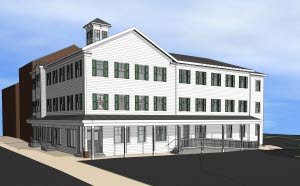 Rendering of Declaration House, a new community service hub coming to Denver, Pa. (Image / RLCS)