The S. Dale High Family Foundation awards $600k to 5 community improvement programs in Lancaster's SoWe neighborhood
S. Dale High can't wait to see what changes take place in Lancaster city's southwest district — an area fondly called SoWe by those who live there — by the year 2040.
No need to wait so long, Gene Duncan, chairman of the Southwest Neighborhood Leadership board, told High. Check back in a year to see what's been accomplished.
Duncan was among several city and SoWe representatives on hand Tuesday afternoon when High, representing the S. Dale High Family Foundation, announced grants totaling $600,000 that will be used to repair and improve properties, corridors, and gateways in the neighborhood. Read more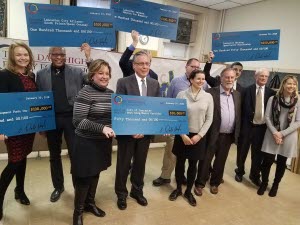 Lancaster Mayor Danene Sorace and S. Dale High announced grants of $600K benefiting SoWe (Photo / Tom Knapp, LNP)