High Foundation recently presented scholarship awards to Brandon Knepper of Mechanicsburg and Kara Wertz of Jersey Shore, Pennsylvania. Both students have been awarded $20,000 scholarships, which provide $5,000 per year for four years.
Kara Wertz – daughter of Larry Wertz, Jr., Quality Control Lead Supervisor with High Steel Structures LLC in Williamsport. Kara graduated from Central Mountain High School where she participated in Marching Band, was Stage Manager for the Drama Club, and was involved in Student Government. She was a member of National Honor Society her Junior and Senior years, and, in addition, volunteered with the Millbrook Playhouse. She was also light and sound board operator for choral and orchestra concerts. Kara plans to pursue a degree in International Development and Social Change from Clark University in Worcester, Massachusetts.
Brandon Knepper – son of Mardell Knepper, Sales Manager for the Hampton Inn in Harrisburg. Brandon graduated from Mechanicsburg Senior High School where he was Team Captain of the Cross Country/Track and Field Team, was a leader of the Fellowship of Christian Athletes, and participated on the Math Team. Brandon was a member of National Honor Society his Sophomore, Junior, and Senior years. In addition, Brandon participated in Peer Tutoring, volunteered with the Wildcat Foundation and the New Hope Ministries Food Bank, and participated in several mission trips. Brandon plans to pursue degrees in Finance and Computer Science from Calvin College in Grand Rapids, Michigan.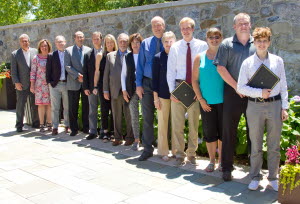 2019 High Foundation Scholarship recipients and their families with the High Foundation Board