High Foundation recently announced the election of two new members to its Board of Trustees.
Gene P. Otto – As Managing Director of Sageworth, Mr. Otto oversees Sageworth's trust, estate, and family office operations. Before joining Sageworth, he was an attorney with the law firm of Barley Snyder LLC. Mr. Otto graduated with a B.A. in economics from the University of Notre Dame and earned his law degree from the University of Virginia. Since joining Sageworth, he has earned the Chartered Financial Analyst (CFA) designation and is a member of the CFA Institute. Mr. Otto serves on the boards of directors and advisory boards of several private businesses, including locally Ecore International and Penn Wast Inc. He also serves on the boards of directors of Sageworth Holdings LLC, Sageworth Trust Company of South Dakota, and Cerrado Abstract.
Michael W. Van Belle – Having recently retired as Chief Financial Officer of the High companies, Mr. Van Belle was responsible for the areas of Finance, Treasury, Accounting, Tax, Legal, Insurance and Information Systems. Before joining High, he was a Tax Partner with KPMG LLP and Managing Partner, Central Pennsylvania with Arthur Andersen. Mr. Van Belle graduated with a B.S. in accounting from Penn State University and earned his law degree from the George C. Taylor College of Law at The University of Tennessee. In addition, he is a Certified Public Accountant. Mr. Van Belle serves on the Board of Trustees of Lancaster Bible College and the Board of The Eden Bridge Foundation, a subsidiary of Lancaster Bible College. He is a past Board member of Lancaster General Health, Pennsylvania College of Health Sciences, and the Lancaster County Community Foundation.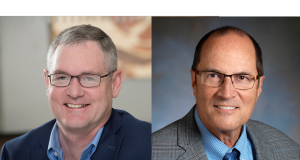 Gene Otto (left) and Michael Van Belle